People for Bikes: Ride Spot
Ride Spot offers a complete toolkit of resources for bike riders, including navigation capability, pre-mapped rides, features to connect with other riders, and tips and tricks for beginner riders. Spoke-n-Sport plans to use the app to stay engaged with customers by sharing classic local rides and helping cyclists find rides best suited for their particular bike type or skill level—we will even create ride challenges directly linked to in-store benefits.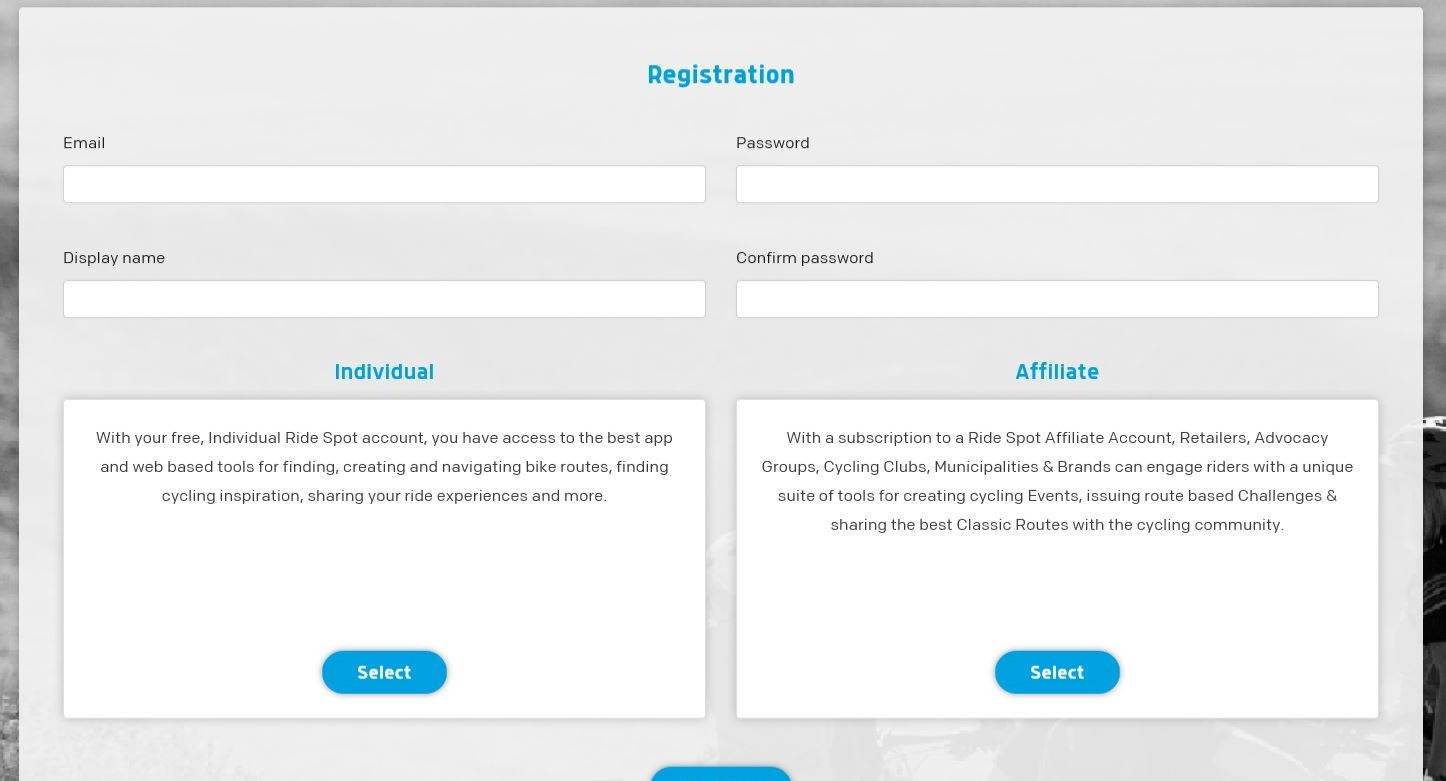 Register
Go to www.ridespot.org and click on Register at the top. This will take you to the screen you see above. Fill in your Email, Display Name, Password and then a Password Confirmation. Be sure to register as an "Individual".   Click "Register" at the bottom of the page. Once you've completed this you'll have to sign in with your new credentials.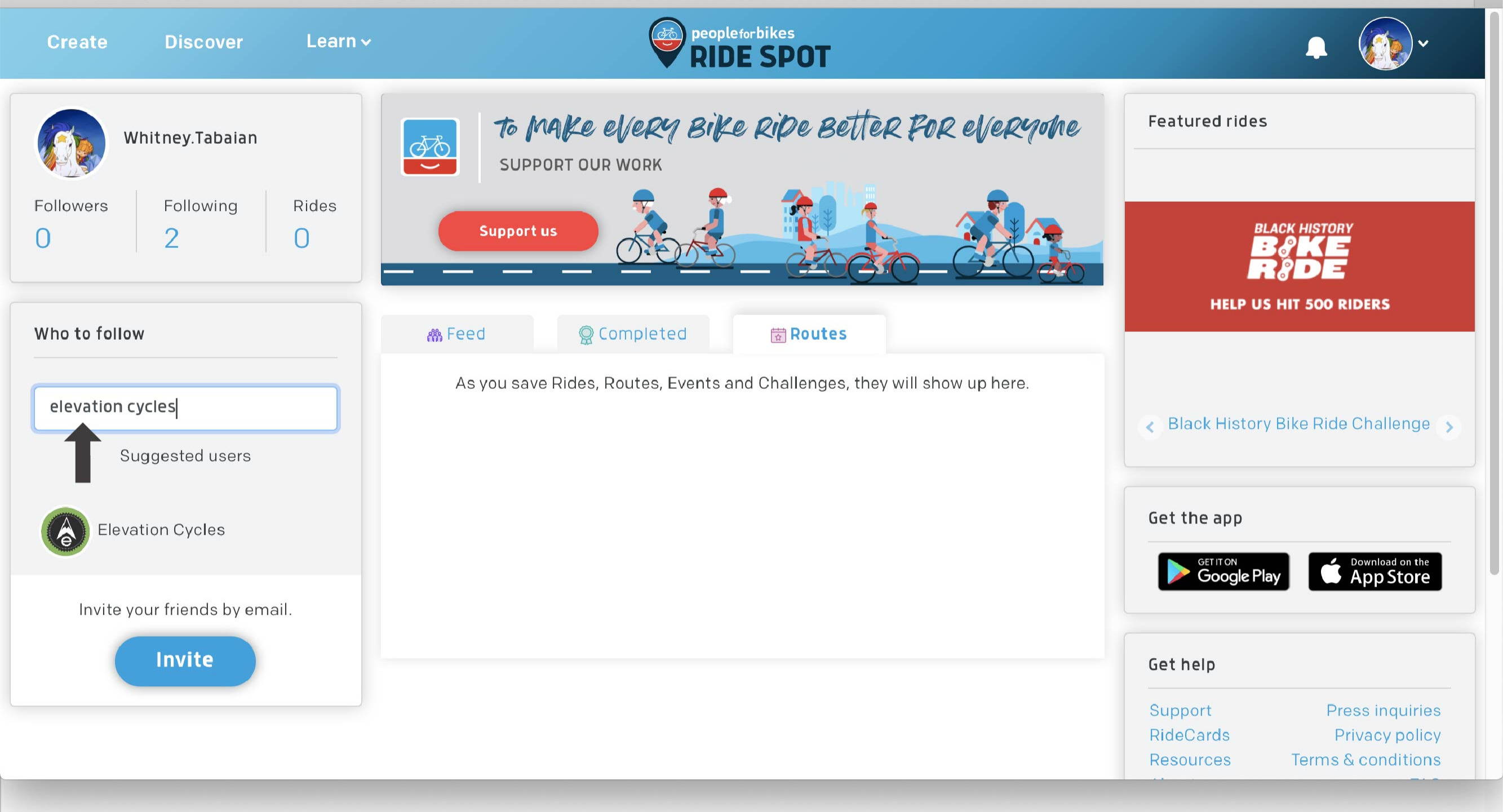 Follow
In the left hand column below your Profile Picture you'll see a "Who to Follow" search box. Type "Elevation Cycles" into the box and you should see our store logo pop up.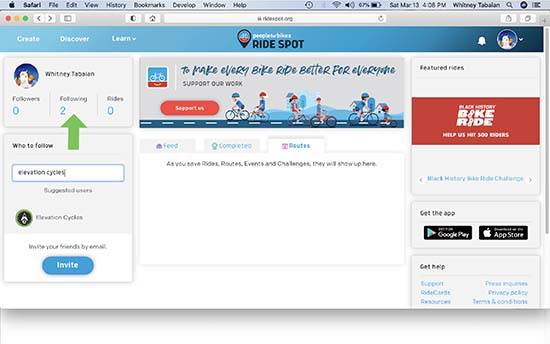 Find Elevation Cycles
In the left hand column click on the word "Following" located between "Rides" and "Followers". Each one of those headings will take you to it's titles destination. Once you click on "Following" you will see a list of people you follow. Scroll down until you see "Elevation Cycles". Click on it.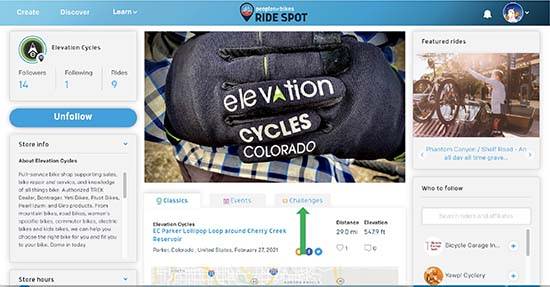 Find Challenges
There are three tabs below the picture of our store.  
Classic: Various bike routes within the region. We hope to grow this section
Events: As we have events we will post maps here
Challenges: This is where our challenges will be. Rides you can join for various in-store promotions like Bike to Work Week. Click on any of these routes to see more details and the opportunity to Join.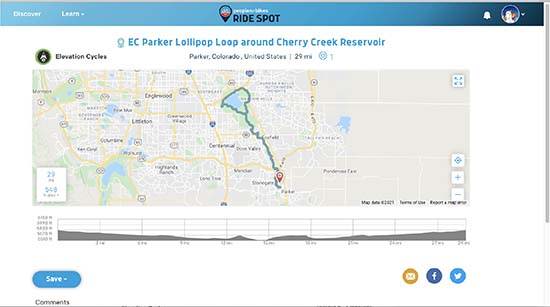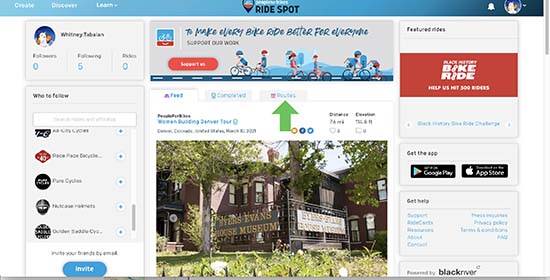 Join
Scroll through the list of Routes or Challenges until you find one that looks appealing. Click on the route title in blue and it will take you to a page with more details. Once there you can zoom in and out as well as see the elevation. If it's a challenge you would like to participate in, click "JOIN" in the lower right hand corner. This saves the Routes and Challenges to your routes.
Routes
After you have Joined a Challenge you can go back to your profile home screen by clicking on the RideSpot logo at the top of the page. At the top of your profile you will have the following.
Feed: Rides that have been posted by people or organizations you follow.
Completed: Routes that you've recorded with the RideSpot app or a Garmin device.
Routes: Challenges you have Joined